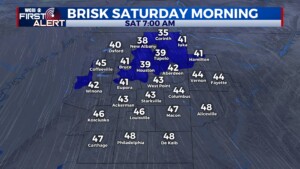 Gradual clearing Friday, 100% fall this weekend – Home – WCBI TV
COLUMBUS, Mississippi (WCBI) – After some rain from Thursday into early Friday, beautiful weather is expected for the weekend.
FRIDAY: Showers and fog at the beginning of the day will gradually give way to sunny hours until the afternoon. Highs will reach the 70s to 80s across the area, with warmer air northwest of the Natchez Trace.
FRIDAY NIGHT: Winds will actually pick up after sunset, sometimes gusting up to 20 mph throughout the night. Temperatures will drop quickly into the upper 40s after midnight. Wind chills briefly in the upper 30s are possible for areas near Iuca, Corinth and Oxford.
WEEKEND: wonderful! Expect plenty of sun both days, but the breeze will stick around Saturday…keeping high temperatures in the 60s to near 70°. Sunday morning will see widespread lows in the lower 40's, but some of the usually colder spots may creep into the upper 30's!!
NEXT WEEK: We will see a quick recovery in temperature. We expect highs in the upper 80s on Monday and mid-80s through Wednesday. The forecast for the end of the week remains quite uncertain, but there could be another strong front and more rain and possible storms…stay tuned!