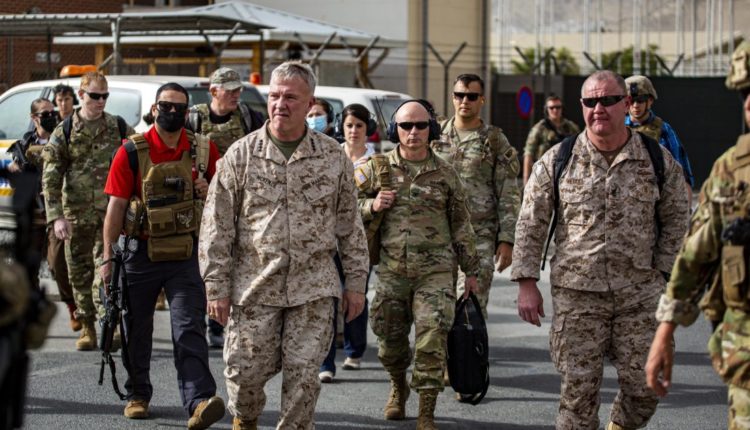 US troops to stay in Kabul till all Americans leave – Live News | Taliban News
US President Joe Biden has said that he will keep troops in Afghanistan until every American is evacuated, even if that means going beyond his August 31 deadline.
The pledge on Wednesday came as 5,000 people departed from Kabul's airport and the Taliban kept some Afghans from reaching the airfield.
Meanwhile in the city of Jalalabad, east of Kabul, Taliban fighters opened fire at protesters who tried to install Afghanistan's national flag at a square in the city, killing at least three and wounding dozens more.
A senior Taliban official told the Reuters news agency that the new government may be a ruling council headed by the group's supreme leader Haibatullah Akhunzada.
The United Arab Emirates confirmed President Ashraf Ghani had arrived there after days of speculation as to his whereabouts.
Here are the latest updates:
---
Images of women vandalised as Kabul faces up to Taliban rule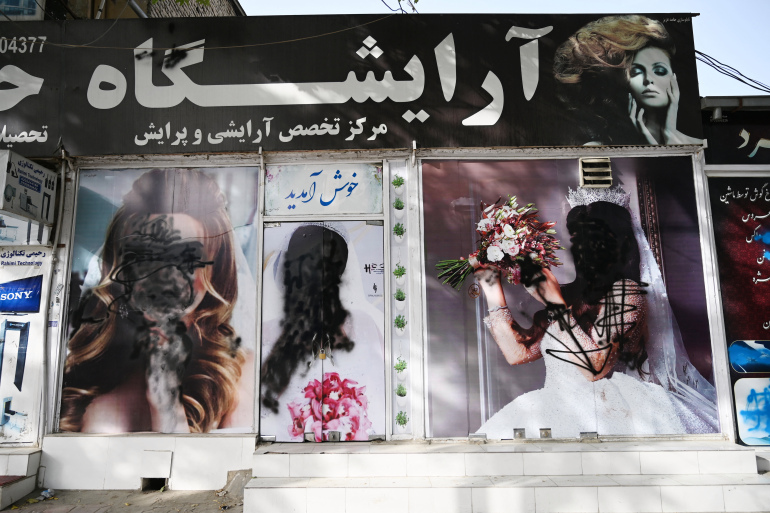 ---
Infographic: Afghanistan's flags over the years
The Taliban intends to replace the Afghan national flag with their white banner bearing the Shahada "La ilah ila Allah, Mohammad rasoul Allah" (There is no god but God and Muhammad is God's messenger) after retaking the country on Sunday. On the same subject : Mercury Systems acquires Pentek.
This is not the first time Afghanistan's flag has changed.
Here is the story of how Afghanistan's flag has evolved over the past 100 years.
---
Afghanistan's fate means West is perceived as weak: UK
The fate of Afghanistan after a 20-year war led by the United States means that the West's resolve is now perceived as weak by major adversaries such as Russia, British Defence Secretary Ben Wallace says. To see also : Azure Private Multi-Access Edge Compute Promises Private 5G Support — Redmond Channel Partner.
"What I'm uncomfortable with is that we have a world order now, where resolve is perceived by our adversaries as weak, the West's resolve," Wallace told BBC TV.
"That is something we should all worry about: if the West is seen not to have resolve and it fractures, then our adversaries like Russia find that encouraging," Wallace told LBC radio.
---
Taliban marks Afghan independence
The Taliban celebrated Afghanistan's Independence Day by declaring it had beaten "the arrogant of power of the world" in the United States.
"Fortunately, today we are celebrating the anniversary of independence from Britain," the Taliban said.
"We at the same time as a result of our jihadi resistance forced another arrogant of power of the world, the United States, to fail and retreat from our holy territory of Afghanistan."
Thursday marked Afghanistan's Independence Day, which commemorates the 1919 treaty that ended British rule in the central Asian nation.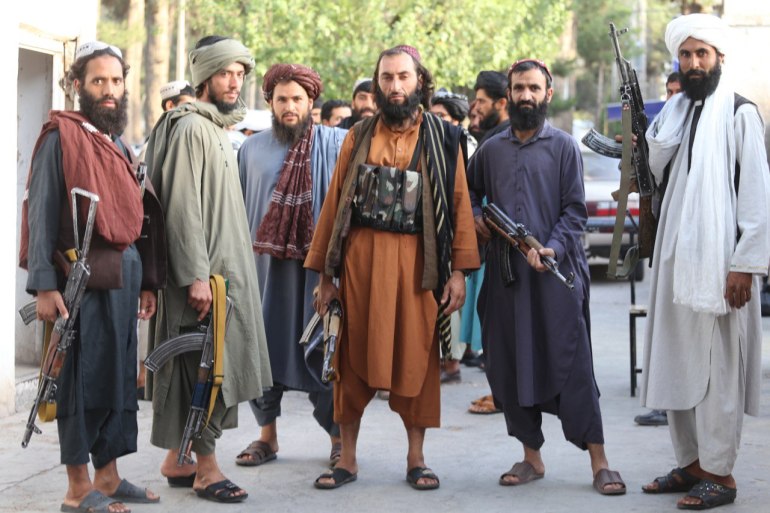 ---
Afghanistan events 'a catastrophe and a nightmare': Borrell
The European Union's foreign policy chief branded developments in Afghanistan "a catastrophe and a nightmare", and said there had been a failure of intelligence to anticipate the Taliban's return to power there.
Josep Borrell told the European Parliament that a first group of 106 members of the EU staff in Afghanistan had been airlifted from the country and had arrived in Madrid, Spain.
He also said about 400 Afghans who worked with the EU and their family members were evacuated to Europe but there were 300 more who were still trying to make it to Kabul airport.
---
Afghan resistance leader asks for help in anti-Taliban fight
Ahmad Massoud, the leader of the National Resistance Front of Afghanistan, urges support for the resistance fighters against the Taliban through an op-ed published in the Washington Post newspaper.
He said his fighters were "prepared to once again take on the Taliban", but the ammunition they have was not enough to last a long fight.
"No matter what happens, my mujahideen fighters and I will defend Panjshir as the last bastion of Afghan freedom. Our morale is intact. We know from experience what awaits us.
"But we need more weapons, more ammunition and more supplies," Massoud said.
"America and its democratic allies do not just have the fight against terrorism in common with Afghans. We now have a long history made up of shared ideals and struggles. There is still much that you can do to aid the cause of freedom. You are our only remaining hope."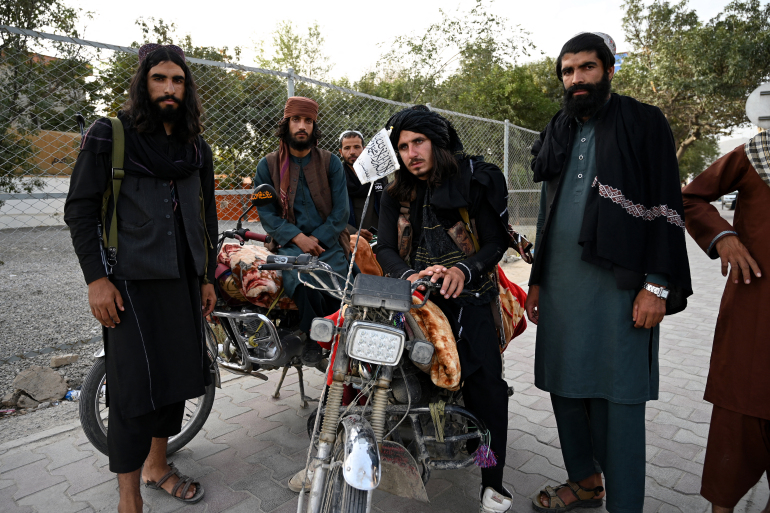 ---
UN should step up its diplomatic efforts in Afghanistan: Brahimi
Veteran UN mediator Lakhdar Brahimi told Al Jazeera the United Nations should step up its diplomatic efforts in Afghanistan.
"The UN should be there, definitely. Nothing can be done internationally without the UN, and the UN has been absent a little bit too long," he said.
"They should really, you know, raise their profile – very, very much. Yes, it is time for diplomacy, and again, you know, the Taliban are a strong player now on the ground. If they want to, they can tomorrow declare a government and, you know, they'll be all right – for one week, for two weeks, for a month, for a year," Brahimi added.
"But if you don't have a real inclusive government, then, you know, the terrible saga of Afghanistan, for 40 years – 50 years actually – will resume or will continue."
---
Taliban urge people to leave Kabul airport after 12 killed
A total of 12 people have been killed in and around the airport in the Afghan capital, Kabul, Taliban and NATO officials said, since the Taliban seized the city on Sunday, triggering a rush of fearful people trying to leave.
The deaths were caused either by gun shots or in stampedes, the Taliban official said, and he urged people still crowded at the gates of the facility to go home if they did not have the legal right to travel.
"We don't want to hurt anyone at the airport," said the Taliban official, who declined to be identified.
---
Kabul evacuees land in Germany as airlift gathers pace
Two planes land at Frankfurt Airport with evacuees from the Afghan capital Kabul as the pace of German evacuations increase following a chaotic start.
A total of about 500 people were on board the two chartered planes from Lufthansa and Uzbekistan Airways.
After landing in Germany, passengers spoke of chaos at the airport in Kabul. Mahmud Sadjadi said he had seen dead people and heard gunshots.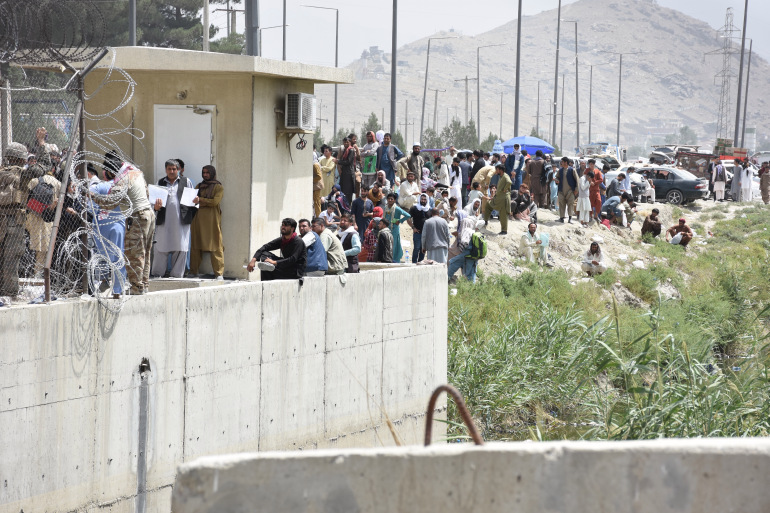 "It is terrible," he said. "Helplessness, hopelessness. Nothing but chaos," he said of the situation in Kabul.
Another passenger, who did not want to give his name, spoke of organisational problems.
"The situation is difficult and not easy to get under control," he said. "But the people in Afghanistan need help. The world must help the Afghan people."
---
Italy making efforts to hold extraordinary G20 summit
Italy's Prime Minister Mario Draghi is working to organise a summit of the Group of 20 major economies on the situation in Afghanistan, according to two national newspapers.
Italy holds the rotating G20 presidency this year and the possible meeting is expected to be held earlier than the scheduled summit in Rome in October, daily la Repubblica reported.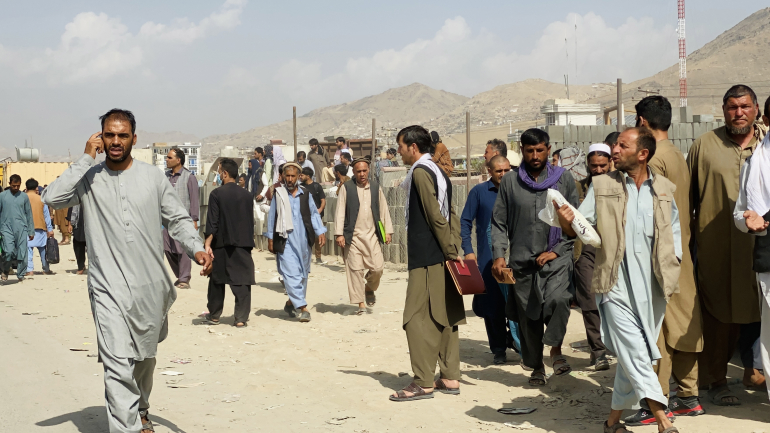 ---
Hello, this is Tamila Varshalomidze, taking over the live updates from my colleague Zaheena Rasheed.
---
Afghan vice president 'salutes' anti-Taliban protesters
Amrullah Saleh, Afghanistan's first vice president, has expressed "respect, support and appreciation" for Afghans who have protested against the Taliban.
"Salute those who carry the national flag and thus stand for dignity of the nation and the country," he said in a tweet.
از حرکت شجاعانه و میهن دوستانه مردم با عزت کشورم در نقاط مختلف بخاطر برافراشتن پرچم ملی برضد گروه نیابتی طالب ابراز حرمت ، حمایت و قدردانی می نمایم. شماری درین راه با عزت شهید شدند
Salute those who carry the national flag & thus stand for dignity of the nation & the country.

— Amrullah Saleh (@AmrullahSaleh2) August 19, 2021
---
US Congress to launch investigations on Afghanistan
Democratic-led committees in the US Senate and the House of Representatives are pledging to press the Biden administration for not foreseeing how quickly the Taliban would sweep back into power.
Senator Bob Menendez, chairman of the Senate Foreign Relations Committee, said legislators will investigate what he described as the "Biden administration's flawed execution of the US withdrawal".
Congressman Gregory Meeks, chairman of the House Foreign Affairs Committee, said he has invited Secretary of State Antony Blinken and Secretary of Defense Lloyd Austin to testify. A hearing could take place as soon as next week.
---
Taliban intensify search for Afghans who worked with US, UK forces – NYT
A secret UN document claims the Taliban is intensifying a search for people it believed worked with US and NATO forces, including among the crowds at Kabul's airport, the New York Times newspaper reported.
The document – seen by NYT – from a UN threat assessment adviser said there were multiple reports the Taliban had a list of people it wanted to question and punish.
It also said the Taliban had been going door to door and "arresting and/or threatening to kill or arrest family members of target individuals unless they surrender themselves to the Taliban".
---
UN to move some staff out of Afghanistan
The UN is relocating 100 employees from Afghanistan to Almaty, Kazakhstan, according to a spokesman.
"This is a temporary measure intended to enable the UN to keep delivering assistance to the people of Afghanistan with the minimum of disruption while, at the same time, reducing risk to UN personnel," said Stephane Dujarric.
He did not specify whether the staff being relocated were international or Afghan workers or both.
---
US says domestic airlines can operate evacuation flights out of Kabul
The US Federal Aviation Administration (FAA) says domestic air carriers and civilian pilots can now fly into Kabul to conduct evacuation or relief flights.
But all such flights "must have permission" from the Department of Defense, it said in a statement.
---
Blinken speaks to counterparts in UK, Italy and Saudi Arabia
US Secretary of State Antony Blinken said he discussed evacuations from Afghanistan in calls with his counterparts from the United Kingdom and Italy.
I discussed diplomatic efforts to help ensure the safety and security of all Afghan and international citizens with @DominicRaab and reiterated U.S. support for the upcoming virtual G7 leaders meeting.

— Secretary Antony Blinken (@SecBlinken) August 18, 2021
In a series of Twitter posts, Blinken also said he spoke with Saudi Foreign Minister Faisal bin Farhan "about ways the international community can support the Afghan people".
Spoke today with Saudi Foreign Minister @FaisalbinFarhan about ways the international community can support the Afghan people as well as other shared regional priorities.

— Secretary Antony Blinken (@SecBlinken) August 18, 2021
He also reiterated a call for the protection of women and girls in Afghanistan.
---
NYT staff in Afghanistan 'make it to safety'
The New York Times said all of its staff and their families in Afghanistan have "made it to safety".
Editor Michael Slackman said the paper helped evacuate 65 families that include 128 men, women, and children.
.@meslackman, assistant managing editor for International @nytimes, shares an update regarding our colleagues in Afghanistan. pic.twitter.com/h8sGY8HMde

— NYTimes Communications (@NYTimesPR) August 19, 2021
---
Ex-Australian interpreter 'shot in the leg by Taliban' – report
A former interpreter for the Australian army has been reportedly shot in the leg by a Taliban fighter as he tried to get on a military evacuation flight out of Kabul, according to Australian broadcaster SBS.
The man said in a voice message that he had been waiting in line to reach the airport gate when a Taliban fighter shot him in the leg.
Photos obtained by SBS News show the man in hospital with a wounded leg.
---
UN warns of hunger in Afghanistan
Mary Ellen McGroarty, head of the UN food agency in Afghanistan, said a humanitarian crisis is unfolding with 14 million people facing severe hunger following the Taliban takeover.
The WFP's country director told reporters in a video briefing that the conflict in Afghanistan, the nation's second severe drought in three years, and the social and economic effect of the COVID-19 pandemic have pushed an already dire situation into a "catastrophe".
More than 40 percent of crops have been lost, she said, while hundreds of thousands of people were displaced by the Taliban advance.
---
Media watchdog calls on Taliban to stop attacking journalists
The Committee to Protect Journalists is calling on the Taliban to stop attacking journalists and searching their homes after being informed of at least four incidents since the group took power.
The CPJ says the media must be allowed to "operate freely and without fear of violence or reprisal".
It said it had received reports of at least four journalists who had had their homes searched since the Taliban takeover, and was investigating reports that at least two reporters in Jalalabad had been beaten by the Taliban.
---
IMF blocks Afghanistan access to reserves citing 'lack of clarity'
The International Monetary Fund has suspended Afghanistan's access to IMF resources, including about $440m in new monetary reserves.
The IMF's announcement follows pressure from the US Treasury, which holds a controlling share in the Fund, to ensure that Afghanistan's share of a Special Drawing Rights (SDR) reserves allocation scheduled for Monday does not fall into the Taliban's hands.
"There is currently a lack of clarity within the international community regarding recognition of a government in Afghanistan, as a consequence of which the country cannot access SDRs or other IMF resources," an IMF spokesperson said in an emailed statement.
---
Hello and welcome to Al Jazeera's continuing coverage of the Taliban takeover of Afghanistan. I'm Zaheena Rasheed in Male, Maldives.
For key developments from yesterday, August 18, go here.