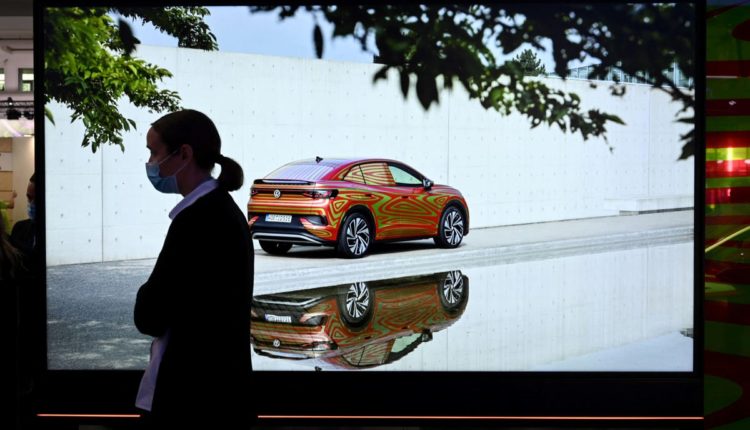 Top Tech Trends Collide As Data, Mobility, And Automotive Look To The Future
Last week, Munich hosted the IAA Mobility 2021 event. It was the first significant in person event that I had attended since the onset of the Covid-19 pandemic, and it did not disappoint. 
Since I presume many readers may be somewhat curious about the process of attending such a large event with more than 500 exhibitors, including major automakers, technology companies, and thousands of attendees, I wanted to offer a few observations. 
The event did a tremendous job of putting safety first, and was able to do so in partnership with the German Government. As a U.S. citizen, arriving in Munich required proof of vaccination, a test within 72 hours of arrival, and masks at all times while in the common areas of the Munich Messe. Throughout the city of Munich, restaurants, hotels, and other public venues were also consistent with their policies. Given the current challenges related to Covid-19, I felt this was very well organized and the management made the event possible. 
Ok, now, about the IAA Mobility event, and some of the key trends around the event. After spending four days perusing the floor, and observing this large-scale automotive event through the lens of a technology industry analyst, I noted a number of growing trends around the convergence of the high-tech and automotive industries. And while we have all observed electrification, telematics, and infotainment, for example, rapidly advancing in our daily driving experience, here are six technology-centric trends at the IAA event that warrant further examination and are certain to have significant impact on the automotive industry.
1. Silicon companies are automotive companies now
Tesla, with its largely vertically integrated supply chain has been anointed by many as the personification of the intelligent vehicle. This may interest you : Scalable Software Defined Networking In Telecommunications Market Growth, Trends, Forecast and COVID-19 Impacts (2021. While this can be disputed, and many OEMs are working hard to make sure it will be, what Tesla has been able to accomplish is popularizing the software-defined vehicle, and to do this, it takes serious compute, networking, and connectivity, and to do this, you need serious silicon. 
For years, semiconductor companies have been in the automotive space, but it has been more behind the scenes, building custom chips to do everything from general and special purpose logic ICs, microcontrollers, DRAM, analog ICs and flash. The recent chip shortage only brought more attention to the relationship between semiconductors and automobiles, but the relationship is becoming even more symbiotic.
Semiconductor companies big and small like Qualcomm, Intel, NVIDIA, Marvell, Lattice Semiconductor, and plenty of others all play a role in the automotive space, but with EV's, Smart Cities, Connected Vehicles, and other trends we will highlight later in this piece, the role of the semiconductor company in automotive is becoming more prevalent, and comprehensive. 
At the IAA Mobility event, we didn't just hear from automakers, and tier one suppliers, but the keynote stage was rife with the biggest voices in semiconductors. Qualcomm CEO Cristiano Amon, and Intel CEO Pat Gelsinger both delivered visionary keynotes on the future of the Automotive Business, and their respective company's visions in the space. 
Amon's presentation included a thought provoking slide on the company's role in transforming the entire landscape of the automotive industry through providing technology to change manufacturing, sales and maintenance, automotive services, in-car experiences, and the broader transportation system. All of this, because of the intelligence of what the company is coining as the "Digital Chassis" of the vehicle. 
This trend alone could easily justify a multi-thousand word assessment, but for the sake of simplification and clarity, the critical point is this: As semiconductor companies move from specialty partners in the design of custom chips for OEMs and Tier One suppliers, to the creators of highly integrated end to end SoCs that entail instrument cluster, telematics, infotainment, ADAS, as well as robust 5G connectivity and networking to communicate with the world, the car evolves from a mechanism for transportation, to a (near) supercomputer on wheels. 
2. CV2X expansion to 5G V2X reflects evolving capabilities of automotive 5G  
CV2X, which is the automotive industry shorthand for Cellular Vehicle to Everything, is the basic principle behind the connectivity layer of systems that tether vehicles to their environment using cellular technology. To see also : Extending software-defined microwave (SDM) communications and space by direct data sampling in Ka-band. It can typically be broken down into several key application-based segments: V2V (vehicle to vehicle), V2I (vehicle to infrastructure), V2P (vehicle to pedestrian), V2N (vehicle to network), V2C (vehicle to cloud), and V2D (vehicle to device), all of which leverage a range of frequencies, bands, and protocols uniquely suited to their respective use cases. 
As CV2X has already matured and expanded beyond the initial vision of cellular V2X, a new and more appropriate nomenclature has emerged to reference the evolving capabilities of the automotive 5G ecosystem that forms the layered wireless web of tomorrow's V2X technologies: 5G V2X. As such, 5G V2X encompasses the totality of the 5G automotive connectivity layer that allows smart, connected vehicles to share data with other vehicles, pedestrians and VRUs (vulnerable road users), the infrastructure around them, ISPs, networks and carriers, cloud-to-vehicle services, as well as a multitude of devices and sensors.      
3. AI and ADAS: Reliable collision avoidance secures path to proliferation of autonomous vehicle services like taxis and deliveries 
It is impossible to talk about automotive trends without bringing up ADAS (advanced driver assistance systems). I don't want to dwell on the obvious, but yes, ADAS is getting better. And yes, onboard AI and Machine Learning really are getting good enough to bring the world closer to fully-autonomous vehicles. The event had several great L2+ demos, which is what we are largely seeing today. I had the chance to join Arriver (Veoneer) for their demo of their next generation L2+ solution and it was rich with capabilities. The trend lines though, all point to the holy grail of L4 experiences gaining pace.
For instance, I just participated in a stunning onboard demonstration that showcased how Luminar's L4 autonomous driving technology can save pedestrian lives by "seeing" a child on the road ahead, and making the vehicle stop in time to not run her over—One demo even looked at the classic child running out in front of a parked car example. The demo effectively displayed how the third sense (Lidar), coupled with traditional computer vision and radar can offer a next level of safety. In my conversation with Luminar CEO, Austin Russell, I was also able to get a sense of Lidar's affordability in future generations of vehicles. The company was able to point to Volvo standardizing on its technology in the upcoming new XC90 model beginning in 2022. 
Because collision avoidance along the obvious three risk vectors of V2P, V2V, and V2I is finally getting good and reliable enough to ease fears about autonomous vehicles mowing down pedestrians, I expect that 2022 will see the start of major autonomous vehicle services launches (think taxis and deliveries). Case in point: Driverless taxis  powered by Intel's Mobileye technology will launch in joint partnership with Moovit, SIXT, in Israel and Germany in 2022. I expect to see similar services expand into H2 2022, with driverless deliveries scaling more quickly than taxi services.  
4. 5G V2X demand for more network bandwidth will drive further 5G NR innovation 
Because simply demanding more capacity from 5G networks specifically for automotive needs is bound to run into friction from network operators already working as fast as they can to build 5G capacity for mobile and Industry 4.0 customers, the automotive sector is going to have to work on finding new NR (new radio) efficiencies to get more out of the bandwidth that they will have access to. On the same subject : SDRs as a Reference and Common Clock Source for GNSS Timing Apps. And that is exactly the kind of 5G V2X innovation that wireless giant Qualcomm is working on with its NR "Light" Sidelink concept. The idea is to offload high-bandwidth data from wide-area 5G networks to smaller sidelink nodes to enhance network capacity. 
Qualcomm recently demonstrated how 5G Rel-16-aligned Sidelink prototypes can even be used to supplement GNSS during service interruptions. The more scalable potential for the technology, however, focuses on V2D applications (package tracking, as Sidelink allows sensors aboard vehicles or in IoT devices to connect to cell towers and extend network coverage at a reduced transmit power), and V2V applications, specifically for connected vulnerable vehicles ("VRUs") like bicycles, scooters, and skateboards. 
5. The monetization of automotive connectivity will create entirely new service models for Carriers and Cloud companies
The 5G V2X evolution of vehicles is predicated on smart, connected vehicles essentially being rolling data centers that depend on connectivity to deliver premium automotive experiences to their users. This means layers of services that did not exist twenty years ago, from low-latency 5G connectivity itself (think monthly service charges with wireless and satellite carriers, for instance), to Cloud-to-car services and edge-compute services. While infotainment services (from music and video streaming services) are too portable to enjoy a bump in subscriptions based solely on automotive infotainment systems introducing more screens into the streaming equation, cloud-to-car providers and wireless carriers will build new services and revenue streams based on the 5G V2X bandwidth, edge/distributed compute, storage, and app-based service needs of connected vehicles.    
Although it may take several years to start seeing the effect of connected vehicles and 5G V2X on the growth of the connected intelligent edge, the automotive sector is highly likely to become, alongside smart factories and Industry 4.0, one of the most aggressive users (and creators) of content, processing power, and storage, all of which  
Are drivers for economic opportunity. While the potential for monetization by incumbent wireless carriers and cloud providers is fairly obvious, I also see tremendous potential for smaller, more specialized infrastructure players to address the capacity gaps that major carriers may find themselves unable to fill in the coming years. I also expect that connected vehicles, especially at the L4 ADAS level, will create an inflection point for entirely new breeds of in-vehicle productivity, entertainment, education, and services apps.    
6. Global automotive policy and regulation will find itself outpaced by 5G V2X innovation 
Generally, regulatory red tape, especially when it comes to automotive safety, tends to slow the pace of innovation, and create drag on industry-wide implementations of transformative technologies. Significant regulatory and policy oversight will be required as we look to deploy things like self driving and smart city technology at scale. And as usual, the pace of innovation in most of these areas will happen faster than regulators and policy makers will be able to keep up.
In the case of 5G V2X, however, things appear to be taking a different tack: As things stand, the rigor of 5G V2X standards, from spectrum allocation to safety standard certification, is robust enough to satisfy even the most recalcitrant automotive safety regulators. This all but removes any significant hurdles to the natural proliferation of 5G V2X implementations across all major automotive markets. 
Additionally, the almost universal alignment of the business sector around 5G V2X adoption may simply be a force that no elected official or political actor seems interested in trying to push back against. Indeed, when the world's major automakers, chipmakers, software giants, technology OEMs, and mobile carriers all stand to make enormous amounts of money from the deployment of a new technological evolution on such a scale as this, it makes little political sense to paint yourself as the fly in the proverbial soup, particularly when economic growth on such a scale also means job creation, which we all know is the lifeblood of political campaigns. For this reason, I believe that regulators and policymakers in most industrialized nations will generally get out of the way of new 5G V2X innovation and let the private sector take the lead for the foreseeable future.
The IAA Mobility show served as more than just an encouraging vehicle for a return to physical events. It was also a visionary conference that brings us into the future as vehicles become both rolling data centers and powerful mobile devices on wheels. 
It's an exciting future for the auto industry, consumers, enthusiasts, and society, as we transition to next generation automotive technologies that will make us safer, more connected, and more sustainable—all of which was clearly on display at IAA Mobility Munich 2021.
This article included research and insights from Futurum Research Senior Analyst, Olivier Blanchard.