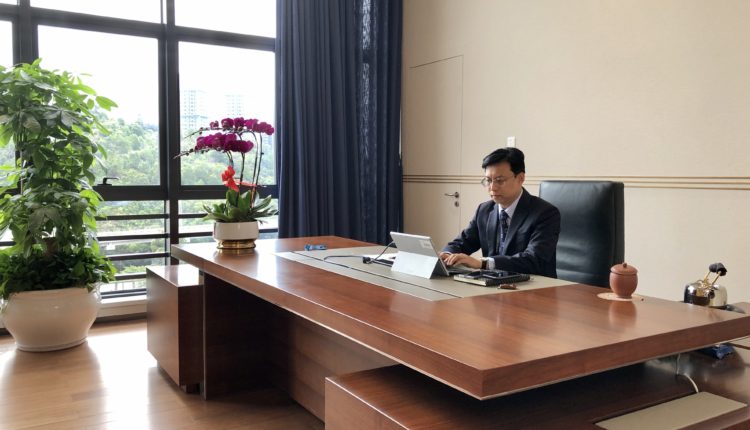 The Critical Communications Review – Caltta Talks about Convergent Solution for Now & Future
Dmr |
Lte |
2021-06-30
Radio China talked to Jiang Long, CEO of Caltta Technologies, to find out how they approach the industrial market.
While telecom companies actively bring their 4G LTE and 5G solutions to industrial sectors beyond their traditional customer base, mostly MNOs, PMR manufacturers have been expanding their offering with LTE capacities. A combination of differences such as technical strength, customer base, and value proposition leads to different strategies taken by various vendors. Radio China talked to Jiang Long, CEO of Caltta Technologies, to find out how they approach the industrial market.
Radio China: In the past 3~5 years, while PMR manufacturers started to launch broadband products, telecom vendors increased penetration into enterprise and industries with their LTE solution. What's Caltta's strategy to navigate through the competition?
Jiang Long, CEO, Caltta: Looking at the technology development trend of private networks, the evolution process from narrowband to broadband is straightforward. From the first-generation analog trunking MPT1327, the second-generation PDT/DMR/P25/TETRA, the third-generation GoTa, to the present the fourth generation of LTE-based and the future 5G-based trunking, private networks will have more and more abundant services, larger capacity, and better performance. However, we also believe that the advantages and applicable scenarios of narrow bands are well recognized. Narrowband and broadband will coexist, so Caltta launched the "2+4" narrowband and broadband convergent solution. A "full convergence" strategy has been developed, which integrates all aspects of terminals, networks, services, and industry ecology. We embrace open ecosystem. We provide chip modules; we open terminal application, our network interfaces, converged communication platforms, etc., to build a thriving private network ecological chain with our partners to create the greatest value for customers.
As for terminals, we have dual-mode and tri-mode terminals, especially our GH900 flagship radio, known as the 1st tri-mode terminal in the industry. It supports DMR, LTE (B-TrunC) and PoC, which can access the network anytime and anywhere to ensure the signal blind spots.
On the infrastructure side, our systems are all based on the SDR Software Defined Radio platform, which supports smooth evolution of from narrowband to broadband, and protects previous investment. Our core network is a broadband and narrowband converged. One core network can access both narrowband base stations and broadband base stations at the same time, realizing unified network management and unified dispatching.
For services, our customers often have multiple heterogeneous networks, various communication methods, and separate service platforms, just like separated information islands. Data is not easy to flow, and coordination is difficult to achieve. In response to these pain points, we leveraged the advantages of being a professional communications vendor to launch iDS, an integrated dispatch system. The system supports the underlying communication methods through various intelligent gateways, and then abstracts a unified support layer to provide engines of voice, video, message, location and other middleware services to provide upper-layer applications with unified standardized capability interaction interface and standardized data interaction interface. With such a converged communication platform, upper-level applications can conveniently obtain the dispatching capabilities of all communication means in a unified way, and truly realize an integrated, flat, visualized, intelligent, and mobile command and dispatch system. Based on this integrated dispatch platform, we are also trying to combine more new technologies and new services, including big data, artificial intelligence, AR/VR, etc. It is an open platform, and we hope to work with our partners to provide customers with more valuable application.
Radio China: Specifically on 5G, does Caltta have a go-to-market plan? Caltta is to focus on certain part of 5G or to take a one-stop approach?
Jiang Long, CEO, Caltta: Caltta has been committed to actively promoting private 5G for industrial users. The communication technology is developing with each passing day. As the latest generation of cellular mobile communication technology, 5G is also an extension of the 4G standard. The goal is to further enhance the data rate, reduce latency, save energy, reduce costs, and increase the system capacity of large-scale device connections. At present, there are more than 100 million 5G users in the world, mainly for enhanced broadband services. It will take some time to promote ultra-high reliability and low-latency services and mass machine communication standard technologies and applications. 5G is still at the stage of commercial exploration, technology research and early adoption in various vertical industries such as industrial internet, smart campus, policing, transportation, logistics, energy, manufacturing, education, medical care, media, tourism, and environmental protection.
The National Radio Commission in China has not allocated 5G spectrum for private networks so far. Therefore, 5G industry applications based on operator networks, whether using network sharing, network slicing technology, or virtual private networks, are not 5G private network in the strict sense. For example, some industries hope to obtain all the control rights, high reliability, security, and privacy of the 5G network. The public network cannot fully meet these specific needs; there are three scenarios for the 5G network, eMBB, URLLC, and mMTC. But in many cases, specific industries do not necessarily need all of these features at the same time, but more mission-critical communications; in addition, there are many service customizations in the PMR industry, and the needs of different industries are different. To some extent, PMR is more customizable than MNO based private network.
To solve problems of the actual situation, Caltta works at two fronts. On the one hand, based on the operator's network, Caltta provides a convenient way for the industrial users to obtain 5G service capabilities with the premise of ensuring high reliability and security; on the other hand, to accelerate the formulation and development of 5G trunking standard technologies, and promote the evolution and integration of industry wireless private network technologies, such as B-TrunC, LTE-M, LTE-G, etc.
We offer 5G miniaturized core network for industries. On the one hand, industry users can share 5G base stations built by operators, while build a miniaturized 5G core network with physical isolation, self-management, and high security level to form a complete SA architecture 5G network. ,It saves investment for wireless network. On the other hand, compared to the operator-grade large-scale 5G core network, the industry-specific miniaturized core network is more suitable for 5G private network construction, supporting industry customized development and rapid application deployment.
Macro base station provides coverage for cities, campuses, and traffic routes. For scenarios with complex reflection and diffraction, such as tall buildings, a large number of users requires good service continuity and high traffic volume. 64TR/32TR base station with large capacity and strong coverage is the best choice; it offers the optimal CAPEX. QCell provides coverage for indoor areas such as buildings, basements, tunnels, etc. Traditional DAS systems cannot support 5G due to the limitation of frequency band and MIMO. Caltta's QCell indoor coverage solution is flexible to deploy and easy to install. Pad base station achieves zero footprint coverage in the park/factory/street/hot spot, featuring on-demand deployment, large capacity, and deep coverage.
Caltta is actively involved in 5G trunking technology research and standard formulation in China. 5G trunking supports professional wireless trunking services, including key voice, key video and key data services, to meet the requirements of daily safe production, work scheduling and emergency command in government, public safety, public utilities, transportation, energy and other industries.
Radio China: Does Caltta keep investing in LMR? Any new product launch recently?
Jiang Long, CEO, Caltta: yes, we have been investing into LMR portfolio and keep launching new products. Caltta adheres to the technical advantages of the former parent company ZTE Corporation. It never blindly strives for scale but aims to innovate. From the groundbreaking launch of "broadband and narrowband convergence solutions" to the comprehensive promotion of "full convergence platform", Caltta always insists that technological innovation comes first. While continuously expanding market influence and market share, Caltta is striving to promote development of the private network market. Caltta's PDT system products and B-TrunC system products are blooming everywhere in the domestic PMR market. From city-level networks to provincial-level networks, the products are constantly updated and upgraded. In 2018, our PDT base station ZXSDR BS8700 won the first prize of product innovation awarded by the PDT Association. Two to three years after the Caltta ZXSDR BS8700 was launched on the market, traditional PMR manufacturers followed up and launched their own SDR multi-carrier products. Caltta tracks and develops cutting-edge technologies and invests no less than 8% of its total revenue in R&D and innovation every year.
Caltta's new terminal products are innovative. Our eChat PoC portfolio introduced two new models e690 and e600. These two professional-level radios support not only MNO's phone call and SMS services, but also eChat PTT calls. The feature-rich radios are equipped with Wi-Fi, Bluetooth 4.0, GPS, NFC and support multiple safety features such as SOS emergency alarm, mandown and IP68 level protection, setting up a professional benchmark in the PoC market. The broadband GH860 public and private dual-mode radio, with professional B-TrunC trunking, rich multimedia services, light and sturdy design, and low-temperature resistant performance, is widely used in the 2021 Beijing Winter Olympics test competitions, highly recognized by users.
Radio China: There is news coverage about the emergency communication system used in earthquake-stricken areas recently. What's Caltta's role in PPDR communications in China?
Jiang Long, CEO, Caltta: As a pioneer in the field of emergency communications, Caltta is committed to providing a comprehensive solution of platform, system, terminal and a complete set of mission services for the field of emergency communications, including vehicle mounted PDT/LTE base station, portable/ backpack LTE emergency command system, broadband Mesh Ad Hoc backpack system, narrowband SmartLink Ad Hoc repeater and other series of system products. With multi-mode terminals and multiple access devices, the systems are quickly deployed to implement wireless communication coverage in emergency areas at the front line, connecting to the remote command center to ensure the smooth flow of disaster information, police reporting, and command and dispatch.
When disasters and accidents occur, time is life. We have accumulated experience in emergency response, technical demonstration, and emergency network construction, and have achieved many results in the field of emergency communications. We are the first-class equipment supplier for portable LTE emergency command systems, mesh Ad Hoc networks, and multi-mode terminals. Emergency communication vehicles are mainly used for coverage support, temporary expansion, and emergency communication assurance. in areas that cannot be reached by vehicles, the backpack system is adopted. The base station, carried by a single person, works with a compact size, large-capacity built-in battery.
Caltta emergency communication system provides multiple services such as voice, video, short message, and positioning, enabling the command center not only to "hear", but also to "see". So the command center can make better disaster relief arrangements and on-site decision-making. The emergency front line and the command centers can realize interconnection and intercommunication via various transmission methods such as satellite, microwave, public network, Mesh, etc.
Recently, Caltta launches self-developed DMR SmartLink ad-hoc solutions, which consist of fixed ad-hoc base station SmartLink580, portable ad-hoc repeater SmartLink600, and portable ad-hoc gateway SmartLink650 which is specifically designed for police and emergency communications. Various product forms provide users with multiple options to establish emergency network under different scenarios. The SmartLink solutions have been successfully used in Qinghai earthquake rescue, Sichuan emergency relief drill and monitoring and protection of Asian elephant in Yunnan province in China.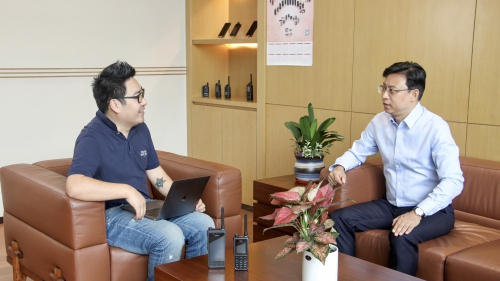 ---