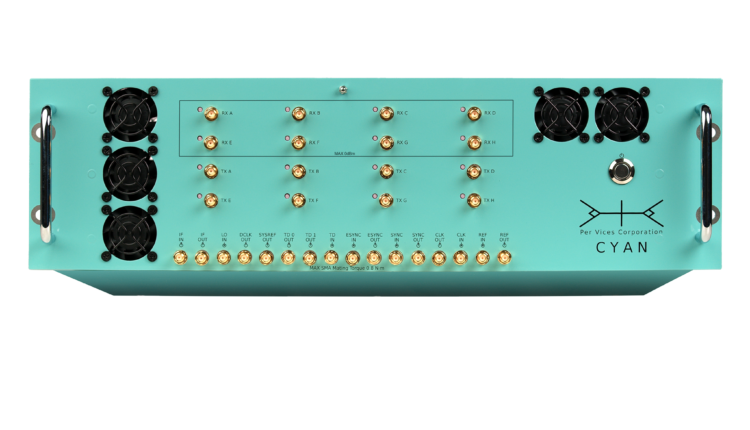 Per Vices Corporation Selects Napatech's Programmable SmartNICs to Enable High-Performance Spectrum Monitoring and Recording
TORONTO, Ontario (PRWEB)
July 20, 2021
Per Vices Corporation, an industry leader in software-defined radio platforms, and Napatech OS (OSLO: NAPA.OL), a leading provider of reconfigurable computing platforms, announced today the selection of Napatech's Cyan Storage programmable smart network cards (SmartNICs) and reproduction.
Applications such as real-time spectrum monitoring and recording require a high-bandwidth, lossless connection between the radio and the storage subsystem to ensure the integrity of the data recorded in real time over a wide spectrum. Providing a highly efficient spectrum monitoring and recording configuration brings enormous benefits for uses such as signal interception, spectrum policy enforcement, interference detection and surveillance of restricted areas such as prisons, military facilities, government buildings and airports.
Within Per Vices' product portfolio, the performance of Cyan Software-Defined Radio (SDR), which offers up to 16 independent receivers, each with 1GHz bandwidth and operation close to DC to 18GHz, must be balanced by packet capture. and Cyan Storage and Playback Solution monitoring capabilities.
Per Vices addresses these challenges by integrating Napatech's programmable SmartNICs into its new Cyan storage and playback solution, thus offering the best performance in the available trading platform (COTS). Using the four QSFP + interfaces from 40 Gb / s to Cyan SDR, the solution provides:

High-performance capture, monitoring, recording and storage of data at speeds up to 160Gbps;
100% probability of crossing (POI) in the 16GHz spectrum;
High-performance data processing and greater storage capacity without dropped packets;
Application-optimized CPU, GPU and RAM configurations; and
Easy integration into larger systems.
Brandon Malatest, Chief Operating Officer, Per Vices Corporation, said: "Our products are designed to support mission-critical applications that require the highest performance. We have always achieved this with our radio products and are now able to offer the same high performance for our recording and playback solution, thanks to Napatech SmartNICs, which we have found to be the only products available that meet these demanding performance and performance requirements. lossless package capture. The resulting Cyan solution allows the highest data collection and lossless monitoring and storage available from a COTS product. "
Jarrod JS Siket, Chief Marketing Officer, Napatech said: "We are pleased that Per Vices has selected our programmable SmartNICs to meet the challenging requirements of performance, data integrity and packet capture from their spectrum monitoring and recording application. We look forward to continuing to work with the Per Vices team to determine how our technology can help them deliver best-in-class solutions for additional uses allowed by software-defined radios. "
About Napatech

Napatech helps companies rethink their business by offering hyper-scale computing benefits to IT organizations of all sizes. We are improving open and standard virtualized servers to stimulate innovation and free up valuable computing resources that improve services and increase revenue. Our reconfigurable computing platform is based on a wide range of FPGA software for leading IT computing, network and security applications, which are supported in a wide range of FPGA hardware projects. Additional information is available at: http://www.napatech.com.
About Per Vices Corporation

Headquartered in Toronto, Canada, Per Vices is a leading innovator in the field of radio frequency and digital systems, offering a variety of industries with wireless communication solutions. Per Vices is an industry leader in the development and implementation of high-performance software-defined high-bandwidth radio platforms and customer-focused projects to support a wide variety of applications within defense, civil, aerospace, medical, telecommunications, and networking. low latency, global positioning (GNSS / GPS), radars, tests and measurements, spectrum monitoring and broadcasting and wireless control. We offer cost-effective product products and fast custom development to meet specific customer modifications and project requirements. Additional information can be found at: http://www.pervices.com
There are no statements for the future

This press release may contain forward-looking statements that are only forecasts and may differ materially from actual future events or results due to various factors, including, but not limited to, business conditions, industry and market trends, global economic and geopolitical conditions. , macroeconomic factors and other risks and uncertainties set out in the Napatech reports. The issue discussed in this version is based on current expectations and is subject to change. Napatech does not necessarily update this information. For details, visit us at http://www.napatech.com.
Media

Shannon Van Everyone, Nadel Phelan

+1.831.440.2406

[email protected]
Investor relations

Heine Torsgaard

+45.2241.8090

[email protected]
Software defined radio solutions

Brandon Malatest

Co-founder and Chief Operating Officer, Per Vices Corporation

+1 647 534 9007

[email protected]
Share an article on social media or email: