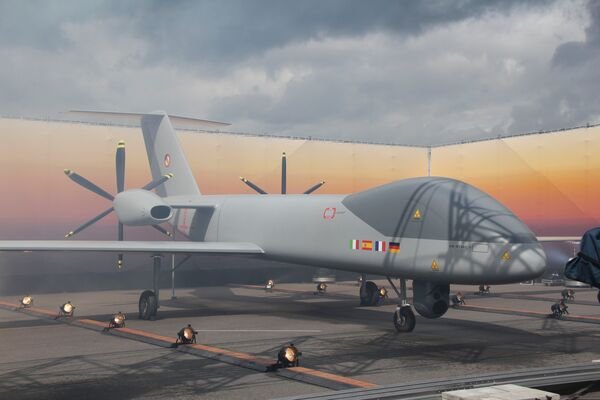 EU's trial programme for defence capability set to disburse its final funding
July 5, 2021
from Brooks Tiger
Nearly € 300 million (US $ 356 million) in financial grants for two major flagship projects and many new, smaller ones will complete the European Union's (EU) spending on its European Defense Industry Development Program for 2019- 2020 (EDIDP), the European Commission announced on 30 June.
The European men's RPAS, the model of which was presented at the ILA air show in Berlin in April 2018, will receive 100 million euros in funding from EDIDP. (Janes / Gareth Jennings)
As the so-called predecessor program, which tests EU defense spending, EDIDP – and its smaller EU precursor budget of € 90 million for defense research – has launched a much larger European Fund for Defense. Defense (EDF), which is worth 8 billion euros for 2021-27 and was officially launched on June 30.
Commenting on the expected impact of the various initiatives on the sector, EU Internal Market Commissioner Thierry Breton said that European defense cooperation "will become the norm. Public authorities will spend better together and companies – large or small – will benefit from all Member States, leading to more integrated European defense industry value chains.
The final round of EDIDP grants of € 295 million will be awarded to the two pre-selected flagship capability projects and to 26 new ones related to the call for proposals for the 2020 program. The total EDIDP budget for 2019-20 is EUR 500 million.
The € 137 million direct award grant will go to two flagship projects: € 37 million for the European Protected Software Radio (ESSOR) program and € 100 million for the development of Europe's medium-altitude remote-controlled aircraft (MEN). System (RPAS). EDIDP rules allow direct prizes if there are no other competing consortia in the EU.
https://www.janes.com/defence-news/news-detail/eus-trial-programme-for-defence-capability-set-to-disburse-its-final-funding
Nearly € 300 million ($ 356 million) in financial grants for two major flagship projects …