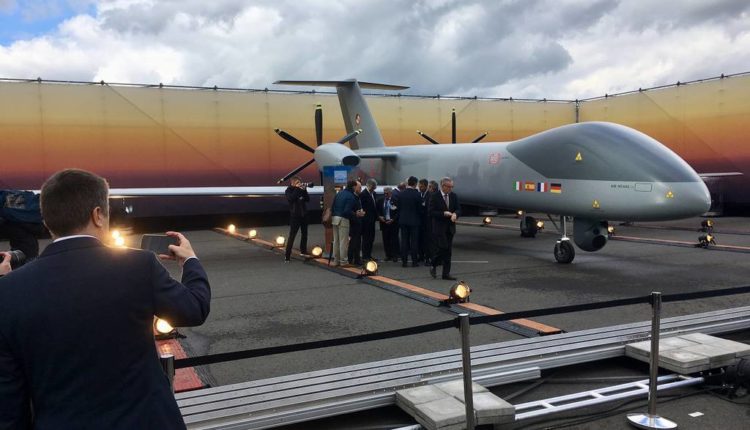 Eurodrone effort gets $118M funding boost, updated production timeline
ROME – European newborn The Eurodrone program received a boost on Thursday in the form of a € 100 million (US $ 118 million) grant from the European Union, while an official pledged a long-awaited € 7.1 billion production contract will be signed by October.
The grant for the pan-European high-durability drone was announced in Rome, where manufacturers' staff met with the head of the European Defense Contracting Agency (OCCAR), which is dealing with the deal.
"This is the beginning of European defense. Member States have finally decided to rely on European industry. This is an important step towards independence, "said Adm. Matteo Bischela, Director of OCCAR, which means Organization for Joint Armed Cooperation.
The Eurodrone project for the construction of a twin-turboprop aircraft – both in reconnaissance, surveillance and reconnaissance version, and in battlefield version – aims to teach Europe to rely on American and Israeli UAVs.
Led by French companies Airbus and Dassault Aviation, as well as the Italian company Leonardo, the project envisions the production of 7.1 billion euros from 20 sets of three drones for four national customers – Spain, Italy, Germany and France – with deliveries in 2028. .
The long-awaited signing of a production contract with the nations will take place in October, Bishegli said. "The drone is a step towards creating something in the European industry that does not contain ITAR," he said, referring to the US regulatory regime called "International Arms Trafficking."
The recently announced € 100 million grant for the Eurodrone program comes from the European Defense Industrial Development Program, an EU initiative aimed at supporting the bloc's defense industry.
Another € 37 million grant was also announced in support of a European consortium developing a European radio program with secure software. During the announcement ceremony, an Airbus employee stressed that Eurodrone would be the only UAV capable of flying in non-segregated European airspace.
"What makes Eurodrone different from any other drone is that it is ready for civilian certification," said Francisco Sanchez Segura, Airbus executive vice president and chief engineering officer. "We are raising the game to a higher standard of safety."
Asked what technologies are included now to ensure this safety, Sanchez Segura said that there is more room left in the drone to adapt to the right technologies, as and when customers want them.
"We leave provisions in both the scope and the architecture of the system so that we can include these systems when needed. So they are not today, perhaps, but on the plane there is room to distribute them in the future. "