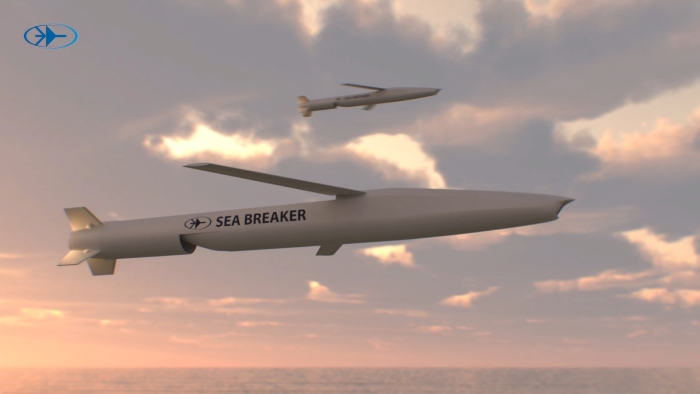 At DSEI 2021, Rafael presenting combat vehicle suite, 'Sea Breaker' missile for first time
The Israeli company Rafael presents a wide range of its ground, air and naval systems and solutions at the DSEI 2021 exhibition, which is currently being held in London. Among the systems, some of which are presented for the first time, are:
Next Generation Combat Vehicle Suite (NGCV-S): According to Raphael, the NGCV-S turns any combat vehicle into a connected, well-protected, optionally manned lethal defense system. A number of sensors and cameras provide full awareness of the situation, while automatic target detection allows the detection and identification of a threat. In addition, the complete video control system allows the crew members to remain completely protected in the cabin with the hatch closed. DSEI marks the first showcase of this package with its improved artificial intelligence architecture.
Sea Breaker: Opened in June 2021, Raphael's Marine Breaker is a 5th generation autonomous precision-guided missile system that allows effective attacks against a variety of marine and ground targets. DSEI is the first time the system has been shown outside of Israel and at a world defense exhibition.
Drone Dome: anti-drone air system (C-UAS), providing 360-degree rapid protection in all weather conditions against enemy drones. Drone Dome detects even small targets at distances over 3.5 km, intercepts and neutralizes them with soft and hard killing measures, while causing minimal damage to the environment and ensuring maximum safety of friendly aircraft.
Spiked missiles: a family of 5th generation guided missile systems.
APS Trophy: proven in combat active protection system for armored combat vehicles.
BNET SD: advanced, tactical broadband IP mobile Ad Hoc Network (MANET) software defined radio.
Fire weaver: a network system that connects all elements of the battlefield in real time, instantly selecting the most appropriate shooter for each acquired target. Simultaneous handling of multiple targets, using AI and data synthesis, enables fighters to receive and share battlefield data through augmented reality icons on their weapon sights, creating a common picture of awareness for all participants.