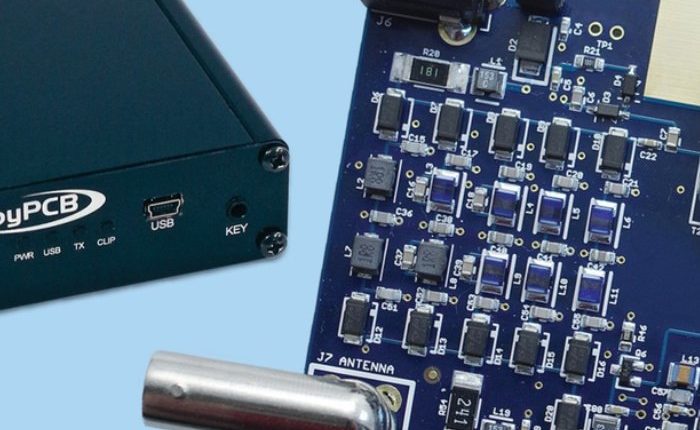 RS-HFIQ Software Defined Radio (SDR) 5W Transceiver Hits Kickstarter (video)
Electronics enthusiasts, manufacturers and hobbyists may be interested in a new Kickstarter campaign launched by Hobby PCB for its RS-HFIQ 5W Software Defined Radio (SDR) Tranceiver.
Watch the video below to learn more about the RS-HFIQ, which is in the form of a high-performance software-defined radio (SDR) 5W transceiver for CW, SSB, AM, FM and digital modes.

The creators of the hardware explain a little more about its features, specifications and functionality:
Not just another SDR – RS-HFIQ offers a real radio frequency response for serious communications. Covering the 80-10M Amatuer radio bands with excellent RX performance and 5 watts TX power, using open source SDR software for CW, SSB, AM, FM and digital modes, RS-HFIQ sets a new standard for shortwave SDR communications.
Specifications
– Frequency band – 3-30 MHz (performance guaranteed on 80/60/40/30/20/17/15/12 / 10M ham bands)
– Sensitivity – MDS <-128 dBm at 80M decreases to <-135 at 10M (depending on bandwidth and sound card performance)
– Noise figure – <15 dB at 80M decreases to <10 dB at 10M
– TX power 5W typically, 4W minimum
– LO Feed-thru <-50 dBc @ 5W output
– False and harmonics <-50 dBc typically <43 guaranteed
– DC power 13.8VDC, 2A max, plus USB power supply for Arduino Nano
For more information, go to Kickstarter, where RS-HFIQ is available to support with early bets, starting at $ 209.
Source: Kickstarter
Filed under: Hardware,, Top news
Latest Geeky Gadgets Deals
Disclosure: Some of our articles include partnerships. If you purchase something through one of these links, Geeky Gadgets can earn an affiliate commission. Find out more.